The Jury
of the Mediterranean Contemporary Art Prize 2019
CRISTIANO GIOMETTI
ITALY | President of the International Jury
Cristiano Giometti is Associate Professor of History of Modern Art and Director of the School of Specialization in Historical and Artistic Heritage - University of Florence.
Research Doctor in History of Visual Arts at the University of Pisa (2004) with a thesis on Baroque sculptor Domenico Guidi (1625-1701), he collaborated with the Superintendencies of Pisa and Livorno, of the Polo Museale Romano and of Lazio. His research focuses mainly on Roman Baroque sculpture and its spread in Italy and Europe and on the artistic relations between Italy and England in the late Baroque period. Among his publications, the catalog of terracotta sculptures of the National Museum of the Palace of Venice (Rom 2011), as part of research funded by the Los Angeles Getty Foundation.
HOSSAM SAKR
EGYPT | Juror
Graduated from the Faculty of Art Education in 1989, Helwan University, Egypt (first, honor rank). He received his masters and Ph.D. in Art and Education from the same academy. He also published international researches in Art and Education and has been working since his graduation as a professor in the Department of Drawing and Painting.
Sakr taught at the American University in Cairo (AUC), Visual Arts Department, as well as the University of Bahrain. He participated in several workshops in Europe and the USA. He also contributed to Fulbright programs as arbitrator of art projects granting in the Middle East. He cooperated with some programs of the World Bank in Washington DC as well.
He has travelled to many parts of the world, including Europe, the USA, Africa and some islands in the Indian Ocean.
He believes that the world is a never-ending journey as art is.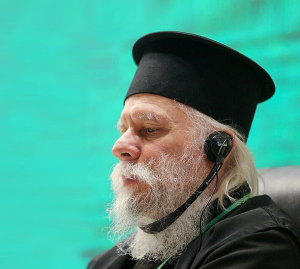 Very Rev. PLATON APOSTOLOS IGNATIOS STAVROPOULOS
GREECE | Juror
Theologian, Law & Doctor of Sociologist, he is Founder and Secretary of the Orthodox Monastic Congregation of Metamorphosis of Nafpaktos (Greece).
Expert of international cultures. Responsible for the international relations of the Study Center and the Byzantine iconography laboratory of the Monastery. Founder and President of the "Hellenic Humanitarian Organization" and "Tennessee Ambassador of Goodwill".
Why the Prize?
The Prize was conceived to ensure a primary role to contemporary art within the framework of artistic and cultural European events of interest involving the town of Matera and the Basilicata region.
Matera - Basilicata 2019
From 19 January 2019, the day of the opening ceremony and until 20 December 2019, Matera and Basilicata will be at the center of the world as the European capital of culture, a showcase to say the least prestigious for those who want to be part of it.
Thinking Mediterranean
Thinking "Mediterranean" equals recognizing the undeniable value of diversity and seeing cultural contamination as the only instrument for individuals and communities' evolution, not as a risk for each single identity.